Maputo, Mozambique and Nairobi, Kenya
A Specialized Team of Illegal Wildlife Trade Detection Dogs Supported by African Wildlife Foundation and Peace Parks Foundation Helps Catch a Vietnamese Trafficker with Illegal Rhino Horns, Lion Teeth, and Lion Nails.
MAPUTO, MOZAMBIQUE AND NAIROBI, KENYA (November 11, 2020) – African Wildlife Foundation (AWF) is cracking down on illegal wildlife trade (IWT) from Africa to Vietnam, China, and other parts of Southeast Asia, and its efforts are seeing results. In a seizure on Monday, November 9 at Maputo International Airport in Mozambique, a sniffer dog, and National Administration of Conservation Areas (ANAC) handler led to the arrest of a woman attempting to smuggle a substantial cache of wildlife products out of the country on a commercial flight.
The dog-and-handler team responsible for the arrest is part of the program that enhances ANAC's law enforcement efforts to crack down on wildlife crime.  This team has been trained and assembled by AWF and the Peace Parks Foundation (PPF) to support Mozambique's ANAC. Mozambique officials believe that the poaching in connection with the arrest occurred in the provinces of Maputo and Gaza, along the border with South Africa. In this instance, 127 nails and 36 canine teeth taken from more than 10 lions, along with five rhino horns believe to be from three different animals, were recovered by the ANAC unit.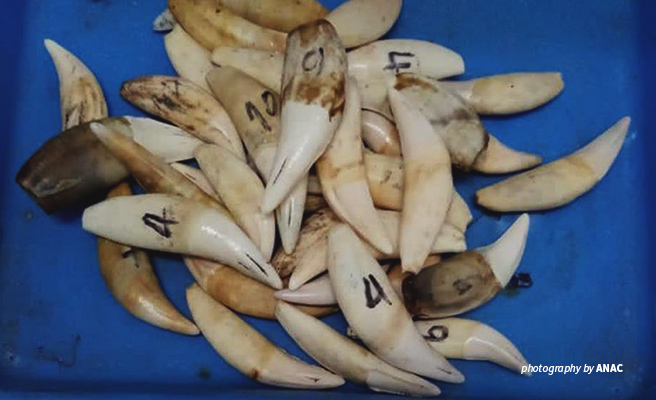 AWF CEO Kaddu Sebunya said: "We are extremely proud of AWF's Canines for Conservation program and its partnership with PPF and ANAC in Mozambique. The dogs and handlers — embedded within government wildlife authorities — are highly trained to search luggage and cargo at some of Africa's busiest international airports, applying pressure on wildlife traffickers and transforming these hubs into 'no-go zones' for wildlife traffickers. They are an incredibly effective illegal wildlife trade deterrent, but especially so when they are part of the local law enforcement apparatus. The arrest this week illustrates the high demand for illegal wildlife products from lions, which continues to concern us. We need to begin seeing more law enforcement to curtail demand at the source. Vietnam and other countries must enforce wildlife laws to stop the lion bone trade and renounce the use of lions' bones in traditional medicine and wine. We are proud to have assisted in this arrest and continue to work hard to stop IWT."
To satisfy unchecked demand in Vietnam, China, and Southeast Asia, African lions are killed for their claws, teeth, and bones. According to the Convention on International Trade in Endangered Species of Wild Fauna and Flora (CITES), hundreds of lion claws and teeth have been exported from African countries to China and Vietnam. Last December, 280 lion bones were intercepted by Cambodian officials on their way to Vietnam.
AWF Vice President of Species Conservation and Science, Dr. Philip Muruthi, said: "AWF works in a variety of ways on the continent to interdict illegal wildlife trade. The Canines for Conservation program has evolved beyond detection dogs and we are currently expanding the program across Africa to include tracker dogs in national parks like Serengeti National Park. We aspire to grow the program more widely in Africa in partnership with African wildlife authorities to enhance their capacity and reduce incidences such as these on a broader scale."
About AWF Canines for Conservation
Working in tandem with wildlife authorities in Africa, the Canines for Conservation Program trains and deploys detection dogs (also referred to as "sniffer dogs") to sites across Africa. These canines are specifically trained to detect illicit wildlife products—including ivory, rhino horn, and pangolin scales—hidden in cargo or luggage.  AWF is developing the Canines for Conservation Program into a continent-wide program, with a Canine Center of Excellence where organizations can learn best practices on establishing their own canine detection program.
About African Wildlife Foundation
The African Wildlife Foundation is the primary advocate for the protection of wildlife and wildlands as an essential part of a modern and prosperous Africa. Founded in 1961 to focus on Africa's conservation needs, we articulate a uniquely African vision, bridge science, and public policy, and demonstrate the benefits of conservation to ensure the survival of the continent's wildlife and wildlands.
MEDIA CONTACT:  For interviews about AWF's Canines for Conservation sniffer dogs, contact Patrick Mitchell of AWF at PMitchell@awf.org or (202) 991-7508 or Nashipae Orumoy of AWF in Nairobi, Kenya at NOrumoy@awf.org or +254 701864021.