Nairobi, Kenya and Washington D.C.
African Wildlife Foundation Issues Comprehensive Update on Pandemic Relief Efforts in Cameroon, Ethiopia, Kenya, and Zimbabwe; NGO Prevents 167 Human-Wildlife Conflict Incidents
During the onset of the COVID-19 global pandemic, African Wildlife Foundation developed an emergency response plan for the hardest hit landscapes where it operates, with the goal of delivering food rations, personal protective equipment, gasoline for vehicles and critical livelihood support for wildlife rangers to continue patrols in poaching hot spots. On November 19, 2020, AWF announced the results of this expansive effort in a virtual event, including precise figures for how it has already allocated directly USD $1,551,103 raised to date. 
The online webinar featured first-hand testimonials from landscape managers and ecologists in Simien Mountains National Park, Ethiopia (including an update on the armed conflict and civil unrest in the Tigray Region); the Tsavo-Mkomazi Landscape, Kenya; the Dja Faunal Reserve, Cameroon; and the Mid-Zambezi Landscape, Zimbabwe. AWF experts disclosed information on funding numbers from its emergency program, community interventions, public health training programs, and AWF's direct response to the threat of increased illegal wildlife trade (IWT) activity, including support to protected area authorities, its Canines for Conservation and communities conservancy programs.
AWF Tsavo-Mkomazi Landscape Manager Maurice Nyaligu said in his presentation: "AWF's emergency response has stabilized our conservation programs, ranger patrols, PPE, and public health efforts in local communities inside Tsavo-Mkomazi, but also helped our team to address unfortunate events that coincided with the global pandemic. Tsavo experienced unusual rains in 2019, which resulted in a huge influx and accumulation of herders into the conservation area from more arid regions in Northern Kenya and Tanzania. This contributed to overgrazing and in turn to the horrible wildfires over the summer. Another strain on the landscape included Kenya's unscheduled release of some prisoners prior to the government closures during COVID. Many of these prisoners had committed wildlife crimes and posed a threat to increased poaching. Without the AWF pandemic response effort, I do not think we could have effectively bridged this difficult period and continued our conservation work."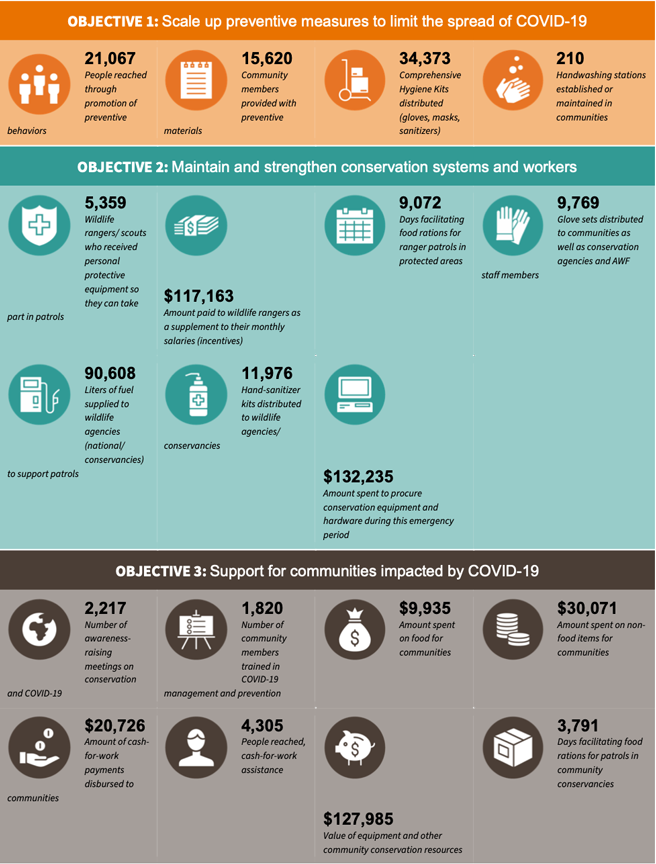 Specifically, AWF experts discussed how COVID-19 has affected local human communities, in terms of the number of cases being reported, and how the emergency response has influenced mitigation measures such as social distancing, handwashing, and mask-wearing. 
AWF Ecologist Tibebu Simegn, Simien Mountains National Park Landscape in Ethiopia said: "A lot of the strained negotiations between the Ethiopian Government and separatists in the Tigray Region have been ongoing in advance of the armed conflict so we anticipated the crisis to some degree and were prepared to stay in place.  AWF's network will remain in Simien Mountain National Park and our staff members here are currently safe and secure. We are optimistic about continuing AWF's important conservation and community engagement efforts in the landscape, and hope that the crisis is resolved as soon as possible."
While issuing the closing remarks, AWF Vice President, Development & Public Engagement, Lindsay Kosnik said: "We take pride in knowing that our efforts to reach and assist the conservation areas and communities on the front lines during this challenging period are working smoothly. AWF will continue to provide targeted support, including financial and material relief to protect conservation gains and mitigate the threats posed by the pandemic. Safeguarding the livelihoods of affected communities around key biodiversity areas strengthens wildlife conservation as communities act as the first line of defense in the conservation of nature preserves."
About African Wildlife Foundation's COVID-19 Emergency Response
Our COVID-19 Emergency Response seeks to address urgent needs, including pain points of protected area authorities, conservancies, local institutions, and communities. The program supports communities in ways that strengthen coping mechanisms to the crisis and look to save the critical functions of protected areas, while also safeguarding livelihoods of communities. AWF's overarching goals are to support protected area authorities; support communities engaged in wildlife and tourism; and support communities outside wildlife and tourism industries.
About African Wildlife Foundation
The African Wildlife Foundation is the primary advocate for the protection of wildlife and wild lands as an essential part of a modern and prosperous Africa. Founded in 1961 to focus on Africa's conservation needs, we articulate a uniquely African vision, bridge science and public policy, and demonstrate the benefits of conservation to ensure the survival of the continent's wildlife and wild lands.
MEDIA CONTACT: For interviews about AWF's COVID-19 Emergency Response, contact Patrick Mitchell of AWF at PMitchell@awf.org or (202) 991-7508 or Nashipae Orumoy of AWF in Nairobi, Kenya at NOrumoy@awf.org  or +254 701 864021.