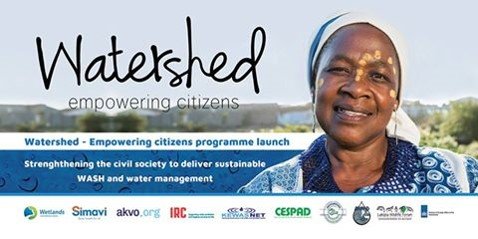 In their August 16, 2018 presentation titled, Watershed: Empowering Citizens – Linking Advocacy and Implementation, Samwel Jakinda, Neighbours Initiative Alliance and Jacob Baraza, Centre for Social Planning and Administrative Development shared their experiences on advocating for integrated approaches in Kenya. Elynn Walter, IRC, followed with a presentation on Watershed's global work package that amplifies lessons across the partnership.
The Watershed program is a strategic partnership between the Dutch Ministry of Foreign Affairs and IRC, Simavi, Wetlands International and Akvoh, focused on systems building related to integrated water resource management and WASH in six African countries.
Event Resources
Click below to watch the webinar recording from the event.
Featured Speakers
Samwel Jakinda
Samwel is the Programme Manager at a Kenyan NGO, Neighbours Initiative Alliance (NIA), NIA facilitates community development in pastoral communities in Kenya's Arid and Semi-Arid counties targeting the poor and vulnerable groups mainly through capacity strengthening/ knowledge transfer, influencing and brokering useful linkages. For over ten years, Samwel has been working with the Maasai people in Kajiado County, one of the 47 counties under Kenya's devolved governance set up implementing community development programmes using Participatory Community Development (PICD) and Community Conversation (CC) methodologies. Trained in Agricultural Engineering, he is also a practitioner of rain water harvesting and has also been implementing community participatory rain water harvesting structures/interventions with emphasis on water buffering using 3R (Rainwater Retention, Recharge & Reuse) approaches within catchments.
Elynn Walter
Elynn is an international advocacy expert with IRC, a Dutch organization focused on supporting governments to achieve the Sustainable Development Goals for water and sanitation by 2030. In that capacity she leads IRCs advocacy work globally and is part of the Watershed – empowering citizens strategic partnership. Elynn works with key WASH stakeholders to create sector-wide advances in advocacy, sustainability and systems change. Prior to IRC, Elynn was the Sustainability Director at WASH Advocates and worked with corporations, foundations, civic groups, academia and implementing organizations to improve the efficiency and effectiveness of their WASH investments, projects and programs. Elynn has worked both in private industry as well as for the US Department of State. Her interest in water, sanitation and hygiene stems from her experience as a Community Health Educator for the Peace Corps in Turkmenistan. Elynn received her Master of Public Health from George Washington University and her Bachelor of Arts from James Madison University.
Jacob Baraza
Jacob is the Watershed Project Manager with Centre for Social Planning and Administrative Development.
This event was hosted by The Africa Biodiversity Collaborative Group as a part of its Washington DC speaker series, which aims to foster information exchange and lessons sharing among cross-sector practitioners. To participate as a featured speaker, please contact Evelyn Namvua at enamvua@abcg.org and view the Guidelines to Speakers here.