Wildlife Conservation efforts in Kenya are at a critical stage. Four decades of extreme wildlife decline may progressively come to an end if current wildlife conservation efforts in community and private lands were to succeed in the longer term. Already we are seeing some good results:
More than 6 million hectares of land is secured outside of national parks and reserves by a network of 160 community and private conservancies.
Over 3,000 community rangers are working alongside Kenya Wildlife Service Rangers to protect wildlife habitats and minimize threats to wildlife species.
An estimated 700,000 households are participating in wildlife conservation and accessing a variety of social and economic benefits.
Populations of endangered species such as the Black rhino, Grevy's zebra, lion and elephant are on an upward trend while other species are returning to their historical ranges.
Yet, despite these achievements, a majority of the conservancies are at a nascent stage, lacking in governance and management effectiveness, as well as the ability to deliver social, economic and ecological benefits in the long term. Threats to wildlife including incompatible land use, habitat degradation, unsustainable resource use and other illegal activities may diminish current conservation efforts.
Fortunately, the conservation sector in Kenya is engaged and committed to a vibrant and sustainable wildlife conservancies network, as it recognizes that it is critical to maintain momentum. Effective collaboration and long-term partnerships have been identified as key factors for success.
To explore this, the Kenya Wildlife Conservancies Association (KWCA) and Maliasili, in collaboration with The Nature Conservancy (TNC) and the World Resources Institute (WRI) with support from the Africa Biodiversity Collaborative Group (ABCG), held a dialogue on Strengthening Partnerships within Kenya's Wildlife Conservancies Movement, hosted by the African Wildlife Foundation in Nairobi on July 4, 2018. It explored partnerships between local actors and national, as well as international partners.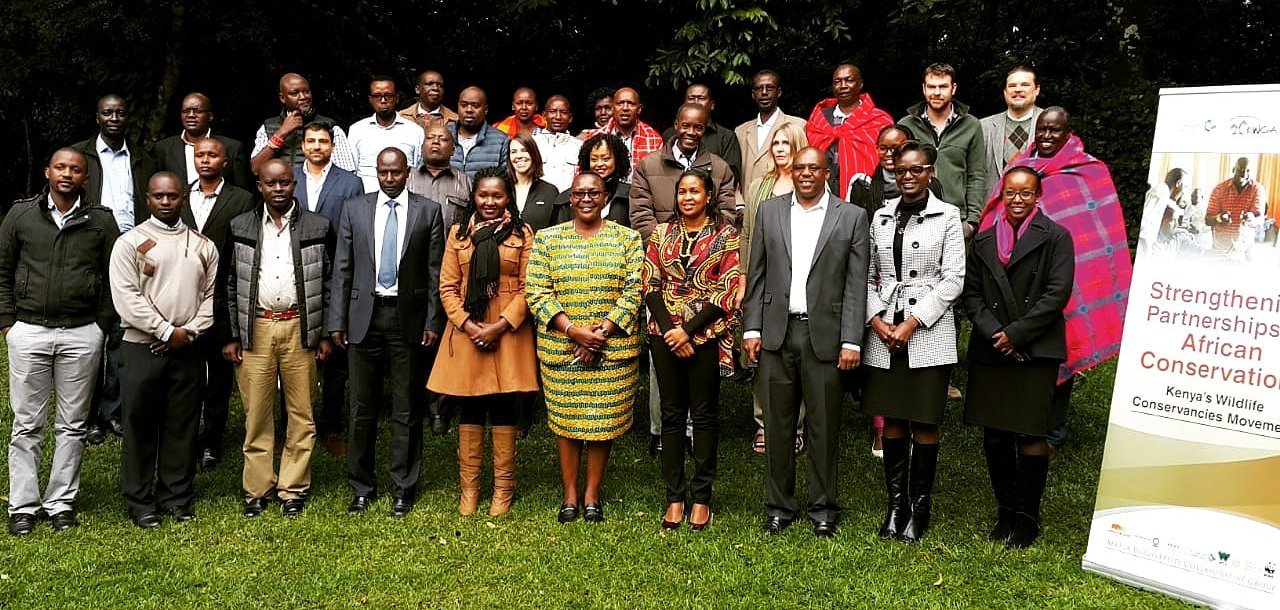 Insights from Kenya's Conservancies' Leaders and Supporters
Forty conservation leaders from local communities, regional associations, government, national and international NGOs and the private sector joined the dialogue. The event, was a follow up to the dialogue, Strenthening Partnerships for African Conservation Leadership, held in Washington in February 2017. It featured open discussions, panel forums, and working group sessions.
The following were the key highlights on lessons learned, best practices, factors for success, challenges and opportunities for fostering robust local, national and global partnerships to scale up Kenya's conservancy movement.
Private Sector Stakeholders as Key Conservancy Partners
The conservancies representatives' panel shared their experience in establishing partnerships with the private sector. Lessons from Mara, Amboseli, Laikipia and Northern Kenya highlighted a variety of partnership models ranging from inter-conservancy collaboration, inter-community partnerships, and private sector coalitions with the communities.
The tourism sector in Kenya was heralded as a model in partnership development, evidenced by the ability to work collectively to advance their agenda despite competing for business. It was concluded that the wildlife sector could draw some valuable lessons from tourism investors in areas, such as self-regulation, standardization and communication.
"Due to their nature of work, conservancies are like a mini state, they depend on multiple partnerships. These partnerships are significant for them to conserve, manage land, provide high social impact development programmes, create awareness, protect wildlife and everything that pertains conservation. Therefore, conservancies need capacity building on how to develop strong partnerships that are well coordinated and managed to provide equitable agreements that does not create a disequilibrium in the communities that result in conflict." Judy Kepher- Gona, Sustainable Tourism and Travel Agenda (STTA)
In partnering with the conservancies, tourism investors bring funds, information, network, and could be a tool in improving conservancy governance. To achieve this the right tourism investor is necessary, one whose motive is beyond profit and whose interest and commitment includes protecting nature and improving local community livelihoods. Partnerships between a tourism investor and local communities fail when profit is the only motive and where the relationship is not governed by a negotiated agreement and if there is inadequate communication and accountability. Understanding the need of the tourism investor and that of the community by either party is a key ingredient to successful partnerships with the tourism players. Noting that only a few conservancies in Kenya today have tourism investments, exploring further how conservancies can become recognized as tourism destinations of choice that attract the right the kind of diverse ecotourism investments is key to unlocking the value of wildlife conservancies.
Government and Conservation Organizations as Conservancy Enablers
National and county government and conservation non-governmental organizations were identified as key actors and essential partners to the conservancy movement in Kenya. It was however noted that at the county level, enabling policies were not in place. According to the Kenyan 2010 Constitution, wildlife conservation is a national function and the Wildlife Act 2013 devolves wildlife to owners and managers of the land where wildlife occurs. This dual approach however excludes the county governments whose policies and investments could hamper or support conservation in community lands. Several counties are however actively working on establishing systems or structures that will strengthen partnerships within the wildlife conservancy sector through supporting the conservancies in their areas of jurisdiction.
An enabling policy environment at both levels is therefore critical for incentivizing community-based conservation while the technical services and capacity building services offered by conservation organizations is critical for sustainability.
"Conservation is an expensive venture and it requires long-term investment if the communities are to realise the benefits and for wildlife to flourish. Therefore, this calls for a structured partnership that supports them. As Samburu County Government, we acknowledge the role international development partners and other conservation NGOs have played in supporting conservation in the country and realizing we have an obligation to provide financial support to the conservancies for the benefit of our communities and wildlife." Peter Leshakwet, County Executive Committee Tourism, Conservation, Trade and Cooperatives
The conclusion from the dialogue was that effective and robust partnerships were identified as critical for the future of wildlife conservation in Kenya. To be successful in creating the right kind of partnerships for the conservancies movement, the following enabling factors were identified as building blocks:
Ensure partnerships are built on transparency and accountability to ensure trust among stakeholders is cultivated.
A shared common vision, goals, values and objectives are identified at the early stage of partnership building and to the extent possible should be clear and accepted by all through a negotiated process.
Partnerships ought to be long term engagements, results focused and ensure participation by all; a successful conservancy takes time to build and the journey to a sustainable conservancy is full of pitfalls and challenges.
Each partner brings in specific strengths and insights, which are regularly modified and leveraged upon to ensure each partner performs at its best.
Collective prioritization of tasks, activities and allocation of resources and consistent communication between partners are vital in successful partnerships.
The context in which the partnership is established should be well understood by both or all parties and, since context changes over time so must partners regularly define the current context and adjust the partnership to remain relevant.
Create partnerships founded on mutual understanding and benefit and structure partnerships to empower instead of control.
Develop a guiding framework for the partnership – assumptions that there is clarity on this should be avoided.
Regular monitoring and evaluation of impact is critical for adaptive management
Finally, participants identified strategic opportunities for ABCG, KWCA and Maliasili to consider as they seek to strengthen partnerships for African conservation leadership:
Build local institutional capacity to establish and maintain effective partnerships by sharing best practices from their engagements and supporting the design of robust partnership models.
Provide a learning and sharing platform for conservancy stakeholders where information on partnerships would be shared.
Provide opportunities for networking and collaboration through events and other channels.
Develop guidelines and tools on partnerships for application within the wider network of stakeholders.
Hold similar dialogue forums in other regions to strengthen community conservation work in Africa.
Special appreciation goes to community representatives who travelled from various parts of the country and the representatives of the various organizations for their contribution in making this dialogue a great success, and hope that they appreciated the nuances of partnership building and resolve to be a better partner in their respective areas. The support from ABCG, TNC and WRI for enabling this meeting is highly appreciated.
See the full workshop report here: Strengthening Partnerships in African Conservation: Kenya's Wildlife Conservancies Movement
Blog authors: Joy Juma (Maliasili), Joyce Mbataru (KWCA), and Dickson Kaelo (KWCA)