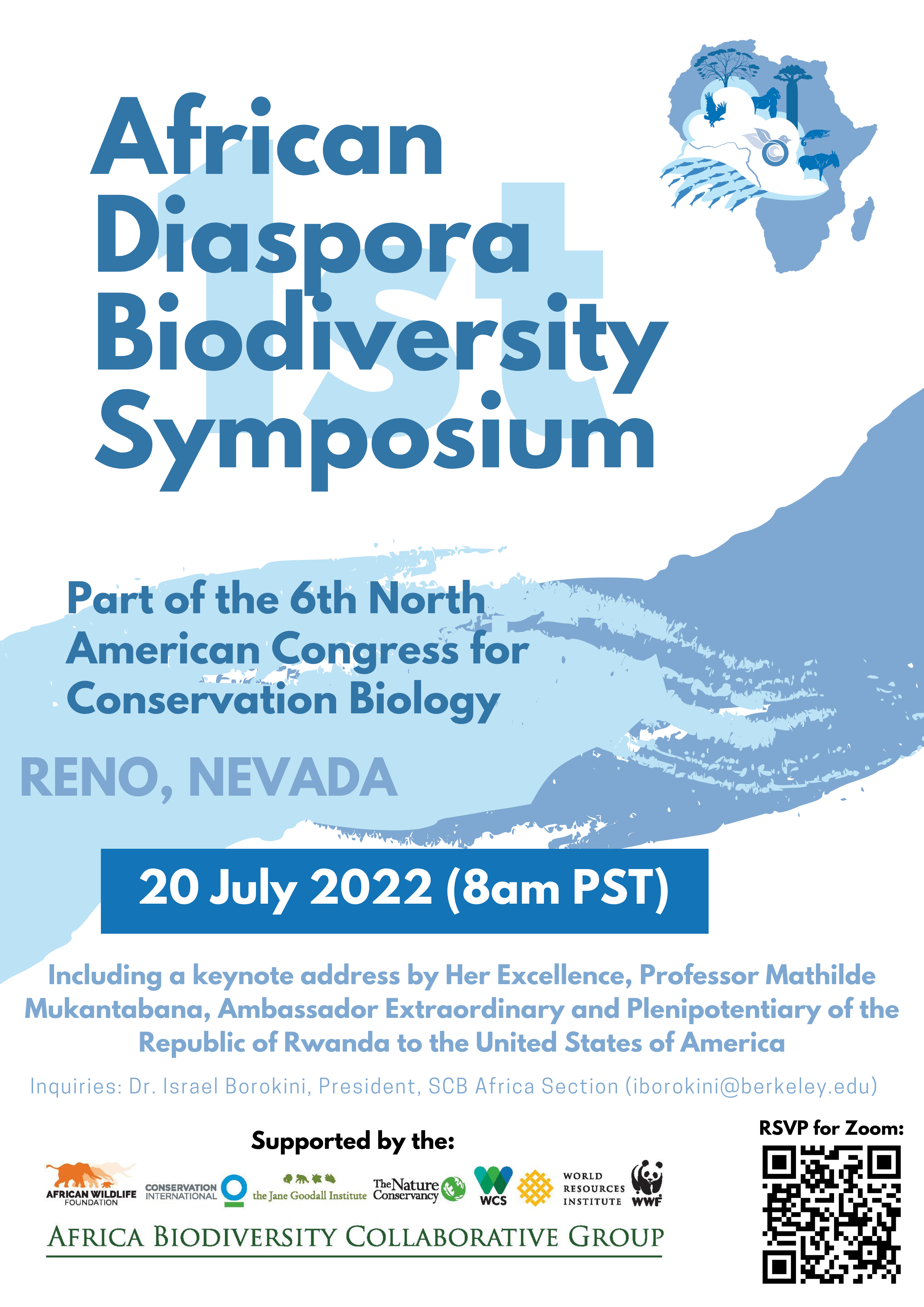 Virtual

July 20, 2022

Wednesday, 8:00 AM to 10:00 AM

+ 254 (0) 711 063 000
1ST Ever African Diaspora Biodiversity Symposium
Wednesday, 8:00 AM to 10:00 AM
July 20, 2022
African Diaspora Biodiversity Symposium
Join us at the first-ever African Diaspora Biodiversity Symposium, which would be held as part of the 6th North American Congress for Conservation Biology in Kigali, Rwanda. The symposium will be held virtually on Wednesday, July 20, 2022 at 8:00 am Pacific Standard Time.
The symposium hopes to identify ways to increase the African Diaspora engagement in biodiversity conservation on the African continent. The event also marks the 2015-2024 United Nations International Decade for People of African Descent.
Speakers
1) Thematic presentations by:
a) Dr. Kevin Njabo, Africa Director, Center for Tropical Research, Institute of the Environment and Sustainability, University of California, Los Angeles, CA
b) Dr. Eyango Vijitha, Founder, Agriculture for Africa NGO and former senior staff at USAID, Los Angeles CA
c) Dr. Edwin Tambara, Director of Global Leadership, African Wildlife Foundation, Washington DC
d) Professor Beth Kaplin, Director, Center for Excellence in Biodiversity and Natural Resource Management, University of Rwanda, Kigali, Rwanda.
2) Panel discussions, featuring:
a) Dr. Djibril Diallo, founder of the African Renaissance and Diaspora Network (and former high-ranking official of the United Nations)
b) Dr. Kirsten Siex, Senior Biodiversity Advisor, USAID, Washington DC
c) Rebecca Goodman, Director of External Affairs, African Wildlife Foundation, Washington DC.
Registration is free! Click on this link to register for the symposium.