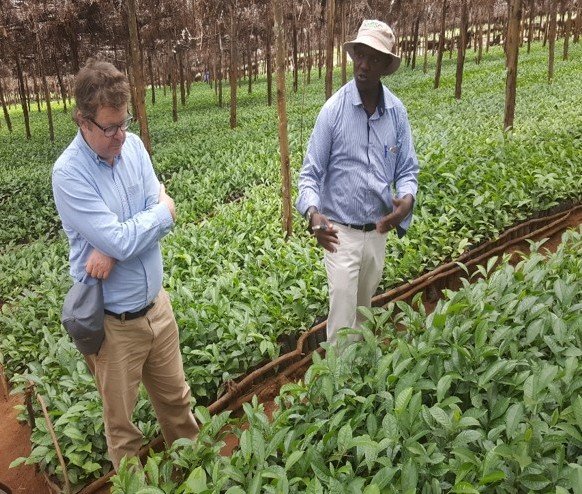 Many countries in Africa are grappling with food security concerns. Inadequate land use planning, illegal logging, uncontrolled development, and poor farming methods are some of the challenges that countries are dealing with as demand for food rises.
The Southern Agricultural Growth Corridor of Tanzania (SAGCOT) is an important food basket in Tanzania with rich fertile lands, extensive forests and reliable water sources. This area presents numerous opportunities for sustainable and profitable agriculture, as well as biodiversity conservation, as it is also an important wildlife corridor in East Africa.
The Nature Conservancy (TNC) has been leading two interrelated projects in order to realize the objectives of this area and support the government in meeting its agriculture greening ambition. TNC's Agriculture Strategy Director for Africa Region, Felix Kamau, presented these initiatives at the Africa Biodiversity Collaborative Group presentation in Nairobi, Kenya on February 21, 2018. The first initiative, Science for Nature and People Partnership (SNAPP) for SAGCOT, aimed at generating practical decision support tools to help policy-makers and investors avoid risks and guide sustainable agriculture intensification throughout the corridor. The second initiative, the Water, Land and Ecosystem program, supported by the Consultative Group on International Agricultural focused on laying the foundations for effective landscape planning in the Ihemi Cluster area of SAGCOT.
These initiatives have resulted in a number of decision support tools to guide policy and investment decisions towards environmentally sustainable and socially inclusive agriculture development being developed. Among these tools are:
Crop Suitability Maps: Maps showing how different crops would perform in different areas within SAGCOT. Twenty-three (23) key crops have been modeled based on rainfall and soil properties viewable at: http://arcg.is/2cbGHRC
Web-based interactive maps created from analysis of soil and land cover constraints to agricultural intensification using multi-criteria evaluation using 6 variables: The maps can be viewed at: http://arcg.is/2aNbbHN
Land use and cover change (15 years) analysis report for the SAGCOT region and the degree how this impacts water quality and quantity
Environmental and social performance investment screen tool for use by SAGCOT Centre to screen agriculture investors: https://tnc.box.com/s/qxfiisxenc4q3can7e8nu5jnj0fzzgur
Guidelines on wetlands management and gender inclusion and monitoring
Through these tools stakeholders are able to make smart land use management decisions to realize the full potential of the land while protecting it.
Featured Speaker
Felix Kamau is TNC's Agriculture Strategy Director for Africa Region. He is responsible for driving TNC's sustainable agriculture intensification strategy for Africa region, working closely with the TNC Global Agriculture team and TNC Africa Conservation Director. Felix joined TNC in July 2013. Prior to joining TNC, Felix worked for the Ministry of Agriculture and Livestock Development in Kenya as the Head of Agricultural Marketing and Agribusiness Development Services Division for 4 years. Prior to that he worked in the same Ministry for 15 years in Agricultural Extension Services Division in various capacities rising to the position of Chief of National Agricultural Extension Services Division, serving in that capacity for 7 years. He has a Masters of Science degree in Agricultural Studies from the University of Queensland (Australia); and a Bachelor of Science in Agriculture degree from the University of Nairobi (Kenya). Felix is also trained in Project Development and Management, Strategic leadership, public policy formulation and implementation, and Strategic Negotiation skills. Felix has wide international exposure in agriculture and rural development from his work and study tours he has undertaken in several countries.
For more information, please contact Felix Kamau at fkamau@TNC.org
This event was hosted by the Africa Biodiversity Collaborative Group in partnership with the International Union for the Conservation of Nature as a part of its Nairobi speaker series, which aims to foster information exchange and lessons sharing among cross-sector practitioners. To participate as a featured speaker, please contact Evelyn Namvua at enamvua@abcg.org and view the Guidelines to Speakers here.
Photo caption
Tea seedlings nursery in Njombe region, SAGCOT Corridor, Tanzania. Photo credit: Felix Kamau, TNC