"Water is life. It's vital. It supports the immense diversity of life on Earth. It's a source of food, health and energy. Fresh water makes civilization possible. But fresh water, in turn, isn't possible without a healthy planet – and human actions are putting a healthy planet at risk." – Conservation International.
Sub-Saharan Africa's freshwater resources are under increasing pressure from population growth, urbanization, and consumption, as well as poorly-planned infrastructure development.
To combat this, the Africa Biodiversity Collaborative Group (ABCG) aims to reduce watershed degradation and pollution to improve the health of freshwater ecosystems. The ABCG is a coalition of seven US-based international conservation organizations that works to tackle complex conservation challenges in Africa through collaboration. Specifically in the collaborative working group on Freshwater Conservation and Water, Sanitation, and Hygiene (FW-WASH), we aim to generate information on the impacts of infrastructure developments on watersheds and the impacts of freshwater conservation in meeting FW-WASH goals. We empower local communities and authorities to address the root causes of human-induced pressures- including limited access to water resources and poor resource governance. Click here to view the WASH Fact Sheet.
The WASH task group has recently presented results from pilot studies in South Africa by Conservation South Africa (CSA), a local affiliate of Conservation International (CI) and Uganda by the Jane Goodall Institute (JGI) on implementing integrated development and conservation projects from a freshwater ecosystems' prospective.
On November 29th, project leaders presented their accomplishments thus far at the Conservation International headquarters in Arlington, VA. The morning began with an introduction of ABCG by Program Coordinator, Rebecca Goodman, followed by a brief discussion by Kirsten Siex, Senior Biodiversity Advisor for the U.S Agency for International Development (USAID), on USAID's support of ABCG's cross sector integration. Peter Appell, Programs Director for the Jane Goodall Institute in Uganda, then spoke remotely about JGI's accomplishments this year under the WASH task group, followed by Colleen Sorto (Senior Manager, Peace and Development Partnerships, Cl) and Janet Edmond (Senior Director, Peace and Development Partnerships, Policy Center for Environment and Peace at CI) about CI's work in South Africa.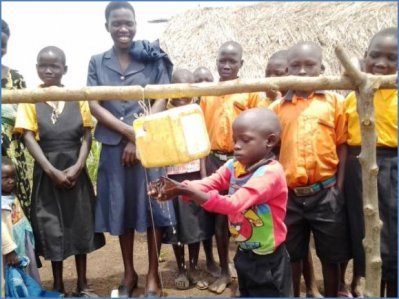 Pupils demonstrating hand washing, at St. Phillips Primary School, Uganda. Photo Credit: JGI
Specifically, JGI is conducting its work in the Albertine rift region of Hoima and Masindi Districts of Uganda– known for its species diversity. It has been named the Budongo-Bugoma Corridor due to the critical chimpanzee habitat there. JGI has been working with the Hoima and Masindi district councils, local institutions, and schools to reach young people through education campaigns on water conservation and improved sanitation. In addition, the organization has improved infrastructure to increase access to potable water by renovating protected streams and constructing community rain harvest points in schools. Access to potable water and increased hygiene awareness is crucial to reducing illness, improving health, and reducing poverty.
Woman carries stone, Mzivubu catchment, South Africa Photo Credit: CI
CI has been implementing WASH projects in the Mzimbuvu catchment of South Africa's Eastern Cape Province. This catchment spans over two million hectares of the some of the poorest rural areas in the province. It is crucial to the region's people and the ecosystem in which they live- providing water to approximately one million people and supporting more than 2,000 unique plant and animal species.
This is why CSA, with technical assistance from CI, is piloting FW-WASH integration tools in the Alfred Nzo District of South Africa. CSA has trained community volunteers in water quality monitoring to promote awareness of how to protect water sources and improve sanitation practices. In addition, they have engaged local community members to protect freshwater springs and understand how livestock impacts their water sources- to improve water quality as well as human and ecosystem health.                                                                                                                                                                       
To view the Webinar recording of this event, click here.