On April 11, 201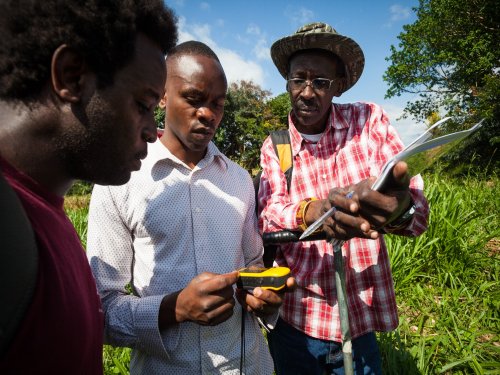 7 the Africa Biodiversity Collaborative Group (ABCG) hosted a speaker series at Conservation International in Nairobi where Alice Ruhweza Executive Director, Vital Signs, Africa Field Division, Conservation International presented on the Vital Signs program. In the presentation, Alice shared results of the Vital Signs program first phase of implementation and invited opportunities for collaboration for the second 5 years phase of the program.
The Vital Signs (VS) monitoring system collects and integrates data using standardized protocols and methods including household surveys, vegetation plot measurements, and remote sensing, and has been under implementation in four countries in sub-Saharan Africa (Tanzania, Uganda, Rwanda, and Kenya) since 2012. The data aims to communicate the importance of ecosystem services for small holder agriculture, and guide governments, policy makers and other key stakeholders in understanding the competing priorities at landscape level and the complex trade-offs between agriculture, ecosystems and human wellbeing.
Preliminary findings from the data collected show that:
Nature plays a key role in food security
In Uganda, forests can buffer against malnutrition where agricultural output is low
Low returns on investment in agriculture due to land degradation
Improved Seeds and Extension Services are critical for higher yields
Click here to view presentation slides for more project results
Partnership with ABCG
Earlier this year, ABCG, through its Emerging Issues small grant program awarded Vital Signs a grant to 'Establish a Community of Practice to Share Best Practices and Enhance Learning from the Vital Signs Monitoring System and the Resilience Atlas in East Africa'. This project aims to establish a community of practice of African conservation and development professionals to share best practice and lessons from the Vital Signs Monitoring System and the Resilience Atlas as tools to improve spatial planning, decision making, and better understanding of the synergies and tradeoffs between development and conservation.