The Cross River gorilla is the most threatened African ape, found only in a small mountainous area on the border between Nigeria and Cameroon. Ten years ago the species was considered by many to be on the brink of extinction.  But concerted effort across Nigeria and Cameroon has dramatically improved the conservation status of the species, although it is still classified by IUCN as critically endangered.  New protected areas have been created and new approaches to involve local communities in conservation efforts have been developed. Although threats remain, the long-term survival prospects for the Cross River gorilla are increasingly positive.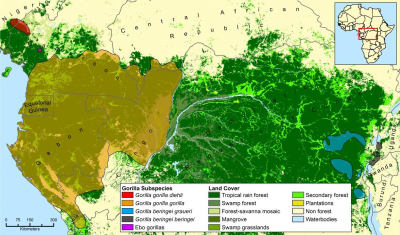 This presentation focused on the partnership between the Wildlife Conservation Society, the North Carolina Zoo and the U.S. Fish and Wildlife Service, and described their collective conservation achievements in Nigeria and Cameroon over the past ten years.
Event Resources 
Watch the webinar recording here.
Download the slide presentation here.
Read the Revised Action Plan for the Cross River Gorilla: 2014 – 2019 here.