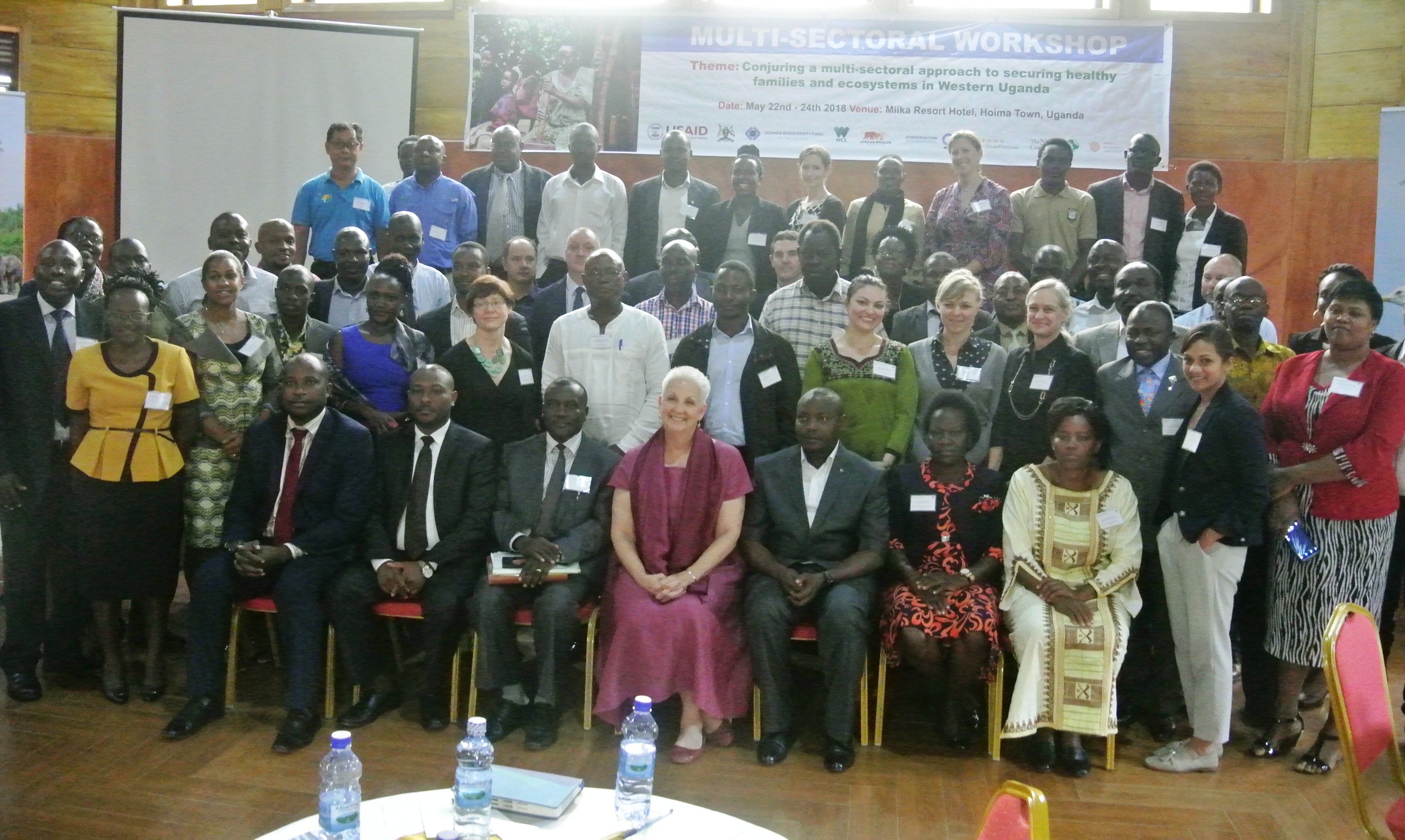 The discovery of oil in the Albertine Rift of western Uganda has brought great opportunities and threats to this region. Oil production in western Uganda started in 2006 following many years of oil exploration with the mapping of the first oil seepage in the 1920s. The resulting infrastructure development-construction of a road network, oil facilities, pipelines, an international airport and others, are putting immense pressure in this ecosystem. Additionally, population growth fueled by refugees migrating from the neighboring Democratic Republic of Congo to Uganda, and internal migration within Uganda as people move into the area looking for jobs further increases pressure on the natural resource base leading to agricultural expansion and deforestation. Oil development and a rapidly growing population is also causing social disruptions that include land grabbing, competition for housing, and overburdening of the social services.
Over 60 stakeholders from the petroleum, biodiversity, government, private sector, non-governmental organizations, international development agencies and others sectors met in Hoima for a three day workshop from May 22-24, 2018, to discuss the way forward on developing a multi-sectoral process that creates a win-win scenario for development and nature.
'According to the International Monetary Fund, petrol could account for up to 7% of Uganda's Gross Domestic Product,' the US ambassador to Uganda, Deborah R. Malac, noted while making her opening remarks.
'It is expected that 15,000 direct jobs will be generated by this opportunity and this will in turn generate another 150,000 supporting jobs.' Ambassador Malac added.
Biodiversity of the Albertine Rift
The Albertine Rift is one of the most biodiverse regions in Africa. Fifty percent of the remaining mountain gorillas in the world reside within the Ugandan borders of the region. The Albertine Rift forests are a key tourism destination due to their rich flora and fauna and the rift valley lakes contribute to the food and income security of local people through fishing.
'More than 80% of Ugandans depend on indigenous medicine that relies on locally available raw material from the forest.' The State Minister for Water Resources, Ronald Kibuule, noted while delivering the Prime Minister's, Dr. Ruhakana Rugunda, opening speech.
Environmental sensitivity of the Albertine Rift
The Petroleum Authority of Uganda is aware of the need to undertake oil and gas exploration in an environmental sensitive manner to minimize negative impacts to biodiversity and to the wellbeing of Ugandans. An initial environmental impact assessment and annual environmental audits; updating environmental laws, guidelines and regulations; developing environmental friendly technology, such as low energy and cable less technology for conducting seismic surveys; and regular engagement with oil companies are some of the techniques that the authority is applying to ensure environment protection and biodiversity management in this region.
'We are increasingly seeing that success in both the development and conservation sectors can result in unexpected and undesired impacts in other sectors, although we all want each sector (infrastructure, health, food security and environment) to continue to be successful.' David Wilkie, event organizer and the Executive Director Conservation Measures and Communities at the Wildlife Conservation Society, said.
'In a complex world we want to make sure that we minimize the risk of success in one sector causing failure in another. At a minimum this means that different sectors need to share their goals, aspirations, and plans so that together we can ensure that all sectors succeed and avoid undesired and unexpected outcomes. Multi-sectoral collaboration is new and will not be easy, but it is necessary for effective investment in human well-being and environmental conservation,' added Wilkie
Land use planning, biodiversity conservation, law enforcement and monitoring, policy implementation, enabling collaboration and carrying out more research on the impact of oil and gas, are key issues that need to be addressed in this region to ensure sustainable development.
The meeting called on all actors to work together in addressing these issues to ensure that development does not negatively impact the rich Albertine Rift region critical to sustaining both people and the planet.
The workshop was organized by the Uganda Biodiversity Fund and the Wildlife Conservation Society and with the active engagement and generosity of the United States Agency for International Development (USAID) Uganda, the BRIDGE Collaborative, the USAID Bureau for Africa, and the Africa Biodiversity Collaborative Group.
For more information contact: David Wilkie [dwilkie@wcs.org]
See event photos here
Read related post: Experts to Launch a Collaborative Process to Ensure Economic Development in Western Uganda Has a Positive Effect on People and Nature
Photos
Photo1: Group photo of the workshop participants. Photo credit: WCS, Uganda
Photo2: Participants having a discussion at the workhop. Photo credit: WCS, Uganda