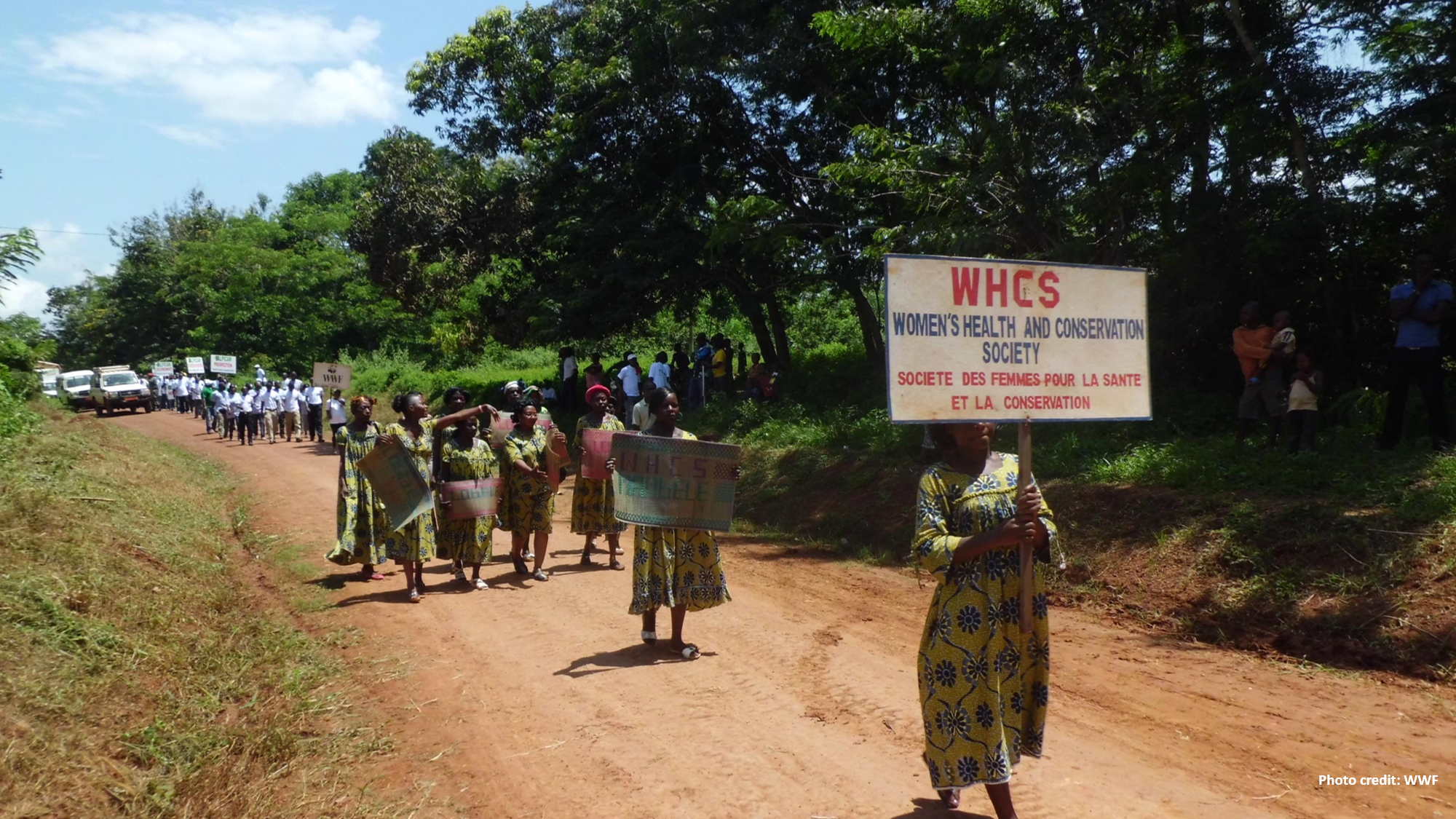 Recognizing there are strong linkages between biodiversity conservation and human health, the health of domestic animals, and ecosystem health, the Africa Biodiversity Collaborative Group (ABCG) Population, Health and Environment (PHE) task group advances a vision that incorporates health outcomes into biodiversity conservation and sustainable development in sub-Saharan Africa.
Over the past three years (2015-2018) and working with communities in two pilot sites in Western Tanzania and Southeast Cameroon, ABCG task members from the World Wildlife Fund, The Nature Conservancy, the African Wildlife Foundation and the Jane Goodall Institute have implemented field-based activities to improve critical ecosystem services and human health and well-being outcomes.
On September 12, 2018, Nathalie Simoneau from the World Wildlife Fund, Kimberly Holbrook from The Nature Conservancy and Alice Macharia from the Jane Goodall Institute shared the lessons learned from implementing this work.
While sharing lessons learned in Southeast Cameroon, Nathalie Simoneau noted that the fight against malnutrition and food insecurity engages community conservation discourses and can be an efficient tool for positive actions against poaching.
In Southeast Cameroon, it was seen that cultural food taboos among the indigenous people are challenging to address and that the use of practical demonstrations help in getting them to adopt best practices. The need to conduct assessments on the knowledge, attitude and beliefs of communities relating to PHE sectors, to target activities was further mentioned as a key lesson learned. In the area of sustainable agriculture, it was noted that targeting women's interests and/or capacity in agroforestry, small animal husbandry, improving entrepreneurship skills helps promote women's empowerment and their engagement in natural resource management decision making.
The use of drama and storytelling was noted as a successful approach in communicating PHE messages in Tanzania. In addition, adoption of climate-smart agriculture increases with training and resources.
The establishment of the PHE network in Tanzania with the aim of providing long-term support for PHE activities in western Tanzania and creating linkages with national level initiatives into the long-term was also a key aspect of this work. Among the lessons learned from this initiative was that field visits grounded the understanding of PHE and that the local government authorities and the communities are essential partners in the success of these efforts.
Clive Mutunga from the USAID Bureau for Global Health also shared some reflections on how the lessons learned can provide an impetus for moving forward PHE and biodiversity programming.
For more on this event, click to watch the webinar recording and access the presentation slides below:
Presentation slides
Rebecca Goodman, Africa Biodiversity Collaborative Group
Nathalie Simoneau, World Wildlife Fund
Kimberly Holbrook, The Nature Conservancy
Alice Macharia, The Jane Goodall Institute
Featured Speakers
Kimberly M. Holbrook
Kimberly Holbrook joined The Nature Conservancy in 2013 as the Africa External Affairs Manager. Her work focuses on building relationships and increasing engagement with TNC's U.S.-based partners with the goal to advance policy initiatives and public funding opportunities and to raise awareness of TNC's conservation priorities in Africa. Prior to joining TNC, Kimberly was a Science Policy Fellow at the U.S. Department of State. She holds a PhD in Ecology from the University of Missouri-St Louis and a MS in Conservation Biology from San Francisco State University. She has more than 20 years' experience working in Africa, Australia, Europe, and Latin America and is interested in protecting natural ecosystems and their services through conservation policy and practice that promote the sustainable development of human communities.
Nathalie Simoneau, US
Nathalie Simoneau is Lead Specialist, Gender and Social Inclusion, at the World Wildlife Fund. She joined WWF in 2010 as part of a team working on population, health and environment (PHE) initiatives. She has a background in public health nutrition and food security and holds a Masters' degree from McGill University's Centre for Indigenous Peoples' Nutrition and Environment. She has worked for over 18 years in program implementation at the nexus of health, development and conservation in Central African countries, Mozambique, Nepal, Cambodia and Northern Canada. Nathalie focuses on mainstreaming cross-cutting issues into major WWF programs globally including gender and social inclusion, food security and nutrition. She leads ABCG's task group on PHE and provides strategic and technical guidance on the pilot project in Southeast Cameroon and in other similar initiatives in the Democratic Republic of Congo.
Alice Macharia
Alice Macharia is Program Director, Africa Programs, at the Jane Goodall Institute (JGI). She joined the Institute in 2003 as part of a team tasked with developing an overarching strategy for the JGI's chimpanzee conservation and development programs in Africa. In her current role, Alice works closely with the organization's senior leadership to manage existing relationships within Africa Programs, external partnerships, and to build new ones. She has master's degrees in geography and sustainable international development. She has over 15 years of progressive experience in project design and implementation, grant administration, and program management of integrated conservation and development programming in Africa. Over the decade and a half, Alice has championed for population, health and environment programming within JGI.
Clive Mutunga
Clive Mutunga is Population, Environment and Development Technical Advisor at the Office of Population and Reproductive Health, Bureau for Global Health, where he oversees and coordinates USAID's work that focuses on the linkages between population, environment and development, including the intersections and integration of family planning and the environment. Trained at the University of Nairobi and the University of Pretoria, Clive is an expert in environment and natural resource economics, and has conducted research on linking population, gender, climate change, and environment.
This event was hosted by the Africa Biodiversity Collaborative Group as a part of its Washington DC speaker series, which aims to foster information exchange and lessons sharing among cross-sector practitioners. To participate as a featured speaker, please contact Evelyn Namvua at enamvua@abcg.org and view the Guidelines to Speakers here.