The Wildlife Conservation Society (WCS) and the World Wildlife Fund (WWF), recipients of the Africa Biodiversity Collaborative Group's (ABCG) Emerging Issues small grants, concluded their project titled, A Scalable Approach to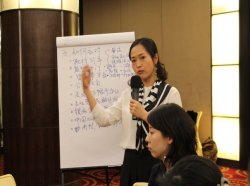 Engaging Chinese Overseas Enterprises to Mitigate Impacts of Wildlife Trafficking in Africa in 2017.
Through its Emerging Issues small grants, ABCG identifies and develops strategies to respond to new and growing threats that are likely to shape conservation priorities in the coming years, and influence the effectiveness of biodiversity conservation efforts in Africa.
The project sought to develop a wildlife trafficking framework that could be implemented by Chinese companies, African host countries, and civil society partners in order to augment their current policies. The objectives were to:
Increase understanding of the risks Chinese investments pose to wildlife trafficking in African countries.
Determine the extent to which existing Chinese government policy/regulation governing overseas sustainability covers wildlife trafficking.
Determine factors which lead to increased implementation of risk mitigation activities by enterprises in Africa.
WWF carried out a landscape study to ascertain potential exposure risks to wildlife trafficking which Chinese enterprises in Gabon might face, as well as examining existing gaps in Chinese overseas policies/frameworks with respect to wildlife trafficking. WCS developed a wildlife trafficking monitoring framework for incorporation into Chinese companies'
policies/guidelines. To further inform the Chinese business community about their conclusions, WWF hosted workshops in Cameroon and Gabon, while WCS did the same in Uganda and China.
The workshops hosted by WCS and WWF, strengthened relationships formed and educated Chinese companies about how to include conservation in their business model. Furthermore, the risk mitigation framework presented Chinese companies with a template for how to apply lessons learned from the workshops and create or enhance their wildlife conservation policies.
The project aided in developing a strategy for approaching the Chinese business community with regards to wildlife trafficking. This in turn allowed for the identification and development of receptive partners. By recruiting companies to become actively involved in wildlife trafficking prevention, there is increased potential for decreasing wildlife trafficking in Africa.
Contact:
For more information, please contact Stephanie Wang, WCS at: swang@wcs.org
Photos:
Photo 1 – A Chinese NGO representative shares group discussion results with conference participants. Photo Credit: WCS
Photo 2 – The Hon. Dr. Goretti Kimono Kitutu, Uganda's State Minister for Water and Environment delivering her inaugural speech at a workshop. Photo Credit: WCS