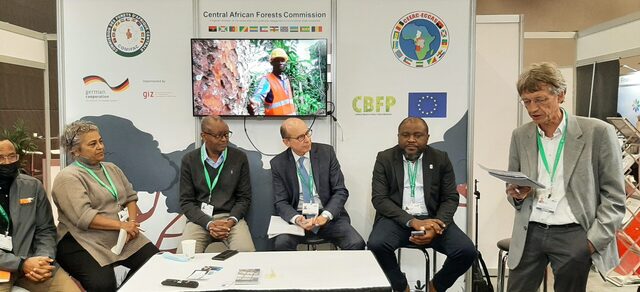 ABCG Director, Rubina James participated in a panel organized by the Congo Basin Forest Partnership (CBFP) and Central African Forest Commission (COMIFAC) to discuss the future of protected areas in the Congo Basin, during the UN Biodiversity Conference (COP 15), that was held in Montreal Canada in December 2022. The session focused on the biodiversity "Fair Deal", advocating for biodiversity conservation and sustainable use of Congo Basin forests in exchange for an adequate share of international biodiversity financing.
Accelerating the protection and sustainable use of Central African forests is paramount because protected areas play an important role as carbon sinks and offer opportunities for socio-economic development of local communities and indigenous peoples. One crucial element in achieving a fair deal on biodiversity conservation and protected areas is that protected areas continue to be economically valuable to the communities.
The discussion took place at the 15th meeting of the Conference of Parties to the UN Convention on Biological Diversity where four goals and 23 targets for nature and people were adopted in the Kunming-Montreal Global Biodiversity Framework. This new framework represents an agreement by parties to halt the human destruction of nature and restore what has already been lost by 2030. A key global target of the framework is the restoration and protection of 30 percent of the world's land, water, and marine areas. Resource mobilization is one key means for achieving the framework, therefore realize a fair deal in the protection of the Congo Basin Forests, the new Global Biodiversity Framework should adequately incentivize communities to protect these areas by providing sufficient financial and technical resources.