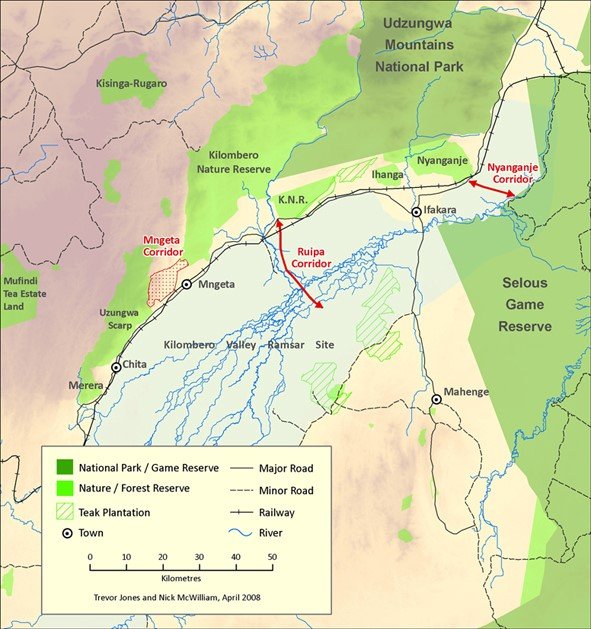 "The Kilombero Cluster supports a wide range of important global biological diversity and is regarded as an ecological bank with its abundant natural resources, including wetlands, wildlife, fertile soils, forests and water catchment areas. It inhabits the Kilombero Valley Flood Plain, a World Heritage site, which is one of Africa's largest river basins joining the Great Ruaha, Rufiji and Luwegu rivers. Further, Kilombero Ramsar Site, Teak forests, Udzungwa Mountains National Parks, Selous Game Reserves, and Kilombero Game Controlled Area that serves as a wildlife corridor between the Selous Game Reserve and, Mikumi and Udzungwa National Parks, are also part of the Kilombero Cluster.
"Due to its immense potential productivity, the Cluster also forms part of the Southern Agricultural Corridor of Tanzania (SAGCOT). Presence of these attractive natural resources, protected resources, fertile land, water resources, extensive grazing land, reliable rains and availability of large-scale plantations have attracted large concentrations of both human being and livestock. This multi-layered resource endowment scenario calls for effective planning to enable sustainable utilization of resources and the avoidance of conflicts. Land use planning, which also involves issuance of customary certificates of right of occupancy (CCROs), provides a foundation for tenure security, equity and sustainable resource use and management.
"Hot investment areas, especially the SAGCOT region, are attracting different investment interests in the agriculture, livestock, wildlife and tourism sectors. While SAGCOT intends to bring up much of the farmland into commercial production for regional and international markets, the same zone is known for containing rich biodiversity that requires integrative planning for facilitating the provision of ecosystem services to the agricultural industry and diversification of production activities. For instance, the Kilombero cluster of SAGCOT in Morogoro is so congested with contesting issues of land administration, environmental and biodiversity conservation that it requires integrative and coordinated planning by all stakeholders at all levels.
"Given the resource use pressure and availability of so many actors on land use planning, administration and management in the Kilombero Cluster, an in-depth analysis of the status of land use planning, land tenure administration and management in the area was required. The National Land Use Planning Commission in collaboration with the African Wildlife Foundation undertook a detailed survey of land tenure status, land use planning, administration and management in Mngeta Corridor and Udzungwa-Magombera landscapes.
"The survey documented land tenure status, socio-economic and biodiversity profiles in the Mngeta Corridor and Udzungwa-Magombera landscapes. It underscored the importance of land use planning, implementation and management as a key tool for natural resources use and conflict management in the two clusters. Results of these documentations will be used for stakeholders' dialogue to address land and natural resources management challenges, sensitize the public on the importance of tenure security (both individual and group CCROs) and recognition of land use planning, administration and management as an effective tool for coordination and sustainable landscape management within the Kilombero Cluster.
Download the report here: Status of Land Use Planning, Land Tenure and Biodiversity Conservation: A Focus of Udzungwa-Magombera-Selous Landscape and Mngeta Corridor in Kilombero District
Photo1: Protected areas and wildlife corridor in the landscapes. Photo credit: Tanzania Wildlife Research Institute, 2009
Photo2: Protected Forest Reserve (Kilombero NR) (left) and encroached Forest Reserve-Namwai Forest Reserve in Ihenga Village (right).