The Africa Biodiversity Collaborative Group speaker series aim to foster information exchange and lessons sharing among cross-sector practitioners. As part of this series, on November 13, 2018, at the African Wildlife Foundation, Nairobi, Matthew Lewis, Regional Wildlife Program Director, Conservation International, discussed how Conservation International is working in northern Kenya to promote peace and security, mitigate human-wildlife conflict, and create economic incentives to increase community tolerance of species like elephant that cause high levels of human-wildlife conflict.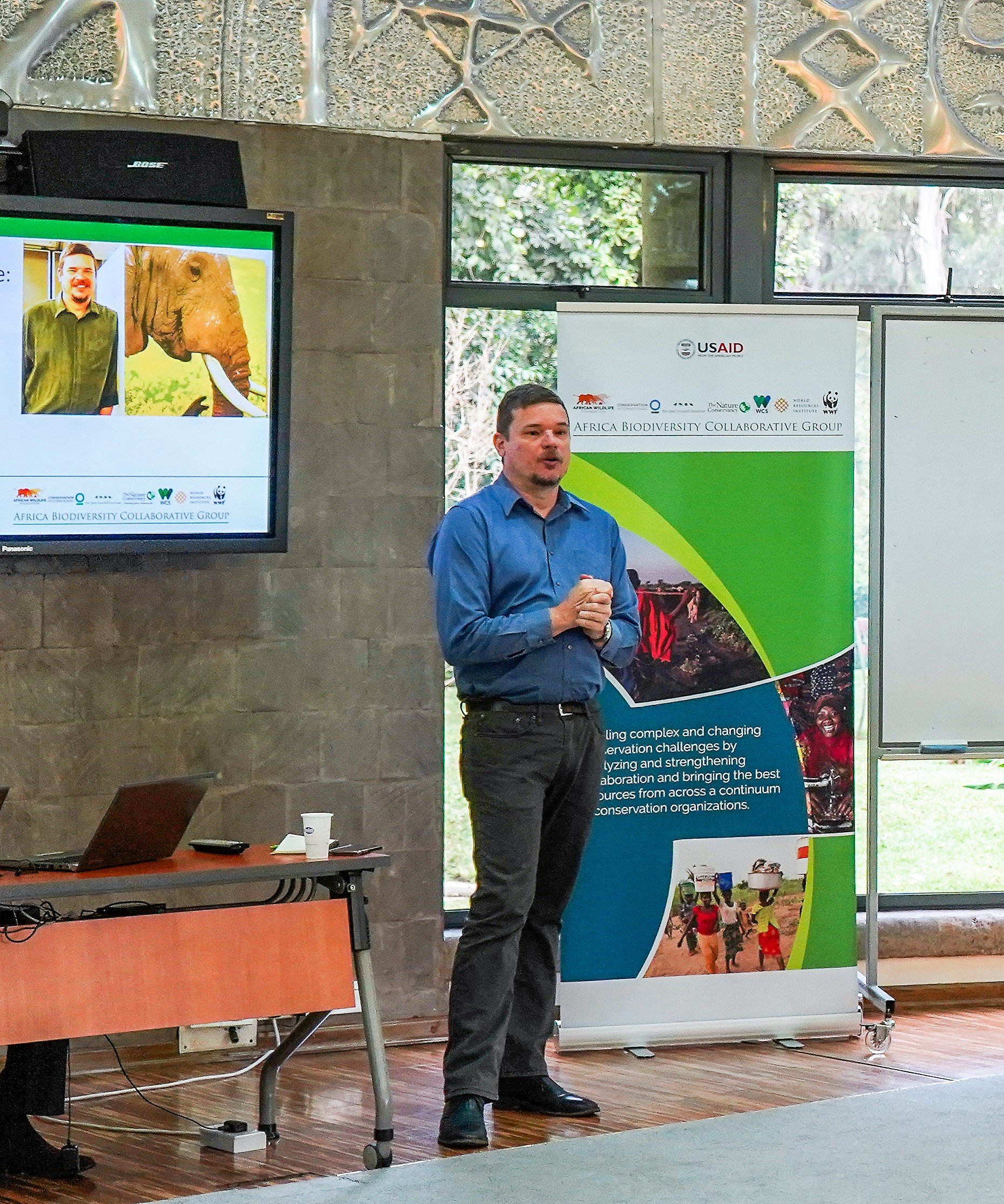 One key principle that Conservation International uses in their approach that Lewis shared during the presentation was the use of empathy. By using empathy in their work, they are able to relate to and address the numerous confounding factors that make coexistence between people and nature more of a dream than a reality in many places, especially in remote rural areas like northern Kenya. By being more in tune and understanding of the needs of the community, Conservation International applies a holistic approach to ensure that the community and wildlife exist in harmony.
This holistic conservation approach has contributed to the partnership of Conservation International, Northern Rangelands Trust and the Namunyak Wildlife Conservancy that has enabled community-based rangers to establish peace and security while combating poaching, expanded infrastructure to support nature-based tourism to create jobs and economic incentives for conservation, and helped establish the Reteti Elephant Sanctuary to care for elephants impacted by human-wildlife conflict and poaching to allow communities to build a closer tie to their elephant neighbors.
The event allowed practitioners to hear about good conservation models and exchange ideas that would enable the evaluation of similar models to ensure that communities and nature continue to live in harmony.
Feature Speaker 
Matthew Lewis is a wildlife biologist with many years of experience in community-based conservation approaches in Africa and worldwide. Beginning his career as a volunteer agroforestry extensionist with the US Peace Corps in Kenya in 1995, he worked on wildlife conservation in North America, Asia and Africa prior to joining Conservation International as the Africa Division Regional Wildlife Program Director in 2018. Matthew is a member of the IUCN Sustainable Use and Livelihoods (SULi) Specialist Group and the Native American Fish and Wildlife Society.