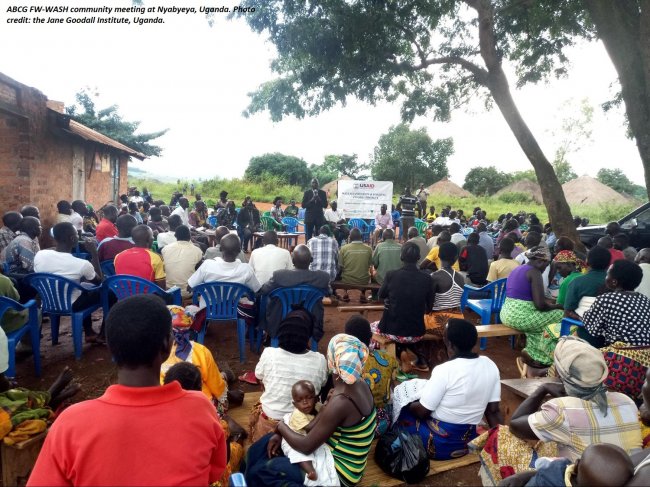 The Africa Biodiversity Collaborative Group (ABCG) has been engaging the local community in Uganda's Albertine rift region of Hoima and Masindi District's in building their capacity to conserve freshwater resources and improving sanitation and hygiene. ABCG through implementing member, the Jane Goodall Institute, has been developing innovations that seek to restore water sources and improve water supply in this region.
Working closely with the local government and key stakeholders of these districts, the Jane Goodall Institute supported development and enactment, in September 2018, of the water, sanitation, and hygiene (WASH) by-laws. These by-laws provide guidelines to the community on how to carry out their activities in ways that will improve their health status as well as strengthen environment conservation.
Here are six keys factors to consider when working on integrating freshwater resources conservation and WASH for influencing policy and attain greater results.
Get your facts and data: Conducting a baseline to show the level of hygiene and sanitation status within communities is necessary in order to know what measures are required, where, by whom, and what would be most effective with the available resources.
Get buy in: Its critical to work together with the community members, the local government and all other stakeholders in the implementation of FW-WASH activities as they are custodians of natural resources. Without their commitment, interventions are bound to fail.
Engage with your stakeholders: It's not only sufficient to get buy-in, but regular consultative meetings with the communities and local leaders are necessary in the development of any recommendations and policies. Grassroots meetings and radio shows, as those conducted in the project, are necessary in providing inputs and feedback on recommendations and any policy intervention.
Create awareness and educate: Develop education awareness materials on sanitation and hygiene that can be used by the community members, schools, and other target stakeholders on the recommended behavior change.
Test: Initiatives to evaluate measures such a knowledge, attitude, and practices of pupils and community members on WASH related issues should be conducted to test effectiveness of the approach. These are important to show which interventions are yielding results and which are not. When rolled out in this project for example, it emphasized the need for increasing latrine coverage, hand washing, and maintenance of existing water sources, both outside and in the forest.
Advocate for smart policy: Interventions that seek to restore natural resources usually take a long time to show results. Developing a set of recommendations and policies that would need to be adopted by the communities would support to ensure that agreed interventions are adhered to and continue to be adopted by the current and future generations.
Other project activities include: renovation of protected springs, construction of community rain water harvest points, conserving water sources through tree planting and other measures, training of water management committees, and school/community sanitation campaigns. These activities contribute to the reduction of watershed degradation and pollution, thereby improving the health of freshwater ecosystems.
About ABCG Freshwater Conservation and WASH activities
ABCG is working to reduce watershed degradation and pollution to increase the health of watershed ecosystems and species by linking freshwater conservation, access and Water, Sanitation and Hygiene. Pilot projects in Uganda and South Africa, examine the effectiveness of implementing integrated development and conservation projects from a freshwater ecosystems perspective. Our activities are contributing to the conservation of freshwater ecosystems and improving efficient use of diminishing water resources due to climate change, that lead to increased access to potable water and improved human health.
Click here to view the WASH Task Group Fact Sheet>
Photo: Women from Siiba Village, Masindi Distict, Uganda collecting water from Siiba spring which was rehabilitated through ABCG project. Photo Credit: Brenda Mirembe, the Jane Goodall Institute.