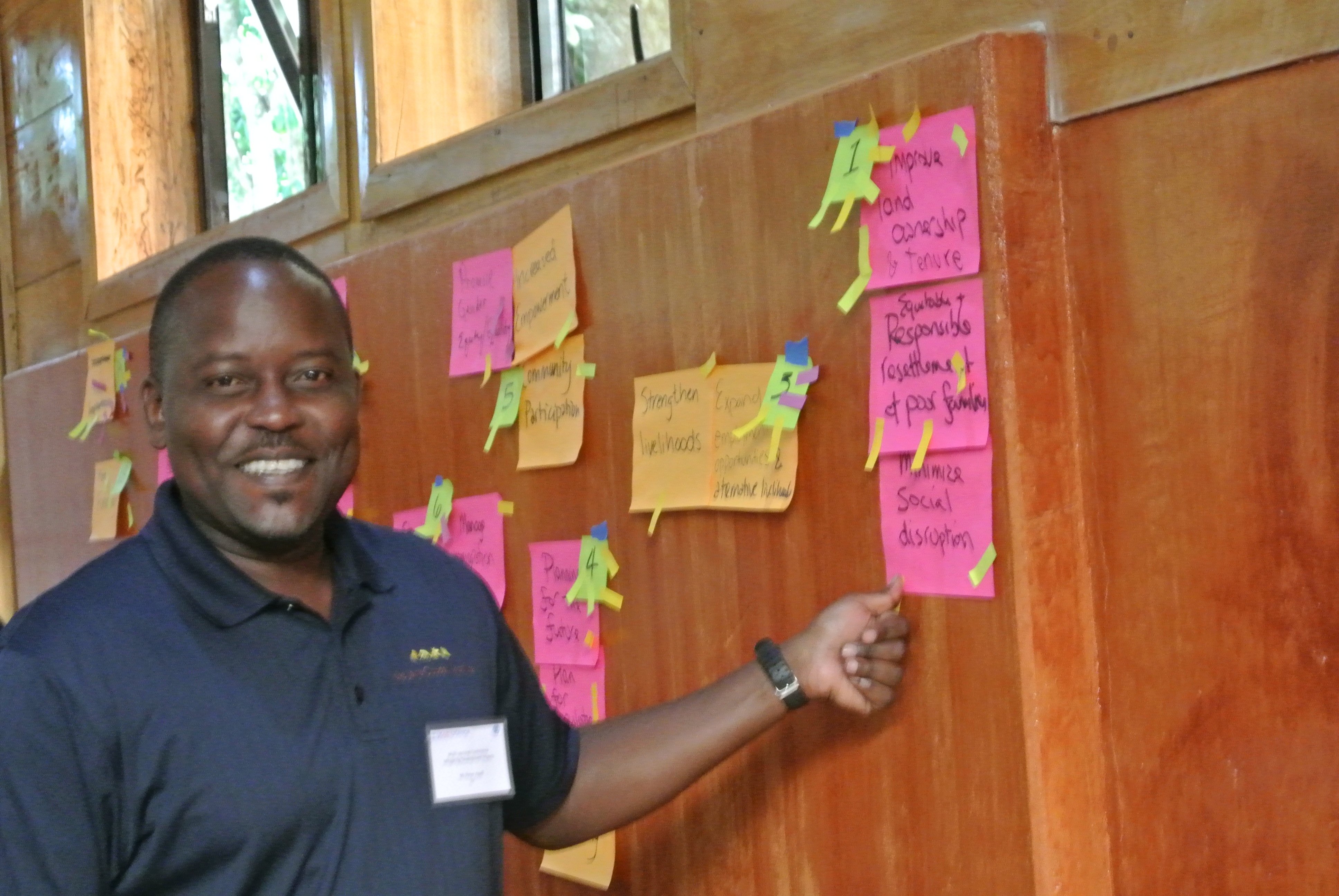 Peter Apell, has been working with the Jane Goodall Institute in Uganda since 2000. Currently serving as the Uganda Country/Program Director he oversees the administration of the country office including oversight of country programs and projects. Peter is also a member of the Africa Biodiversity Collaborative Group (ABCG) Global Health Linkages to Biodiversity thematic working group focusing on the integration of freshwater conservation and Water, Sanitation and Hygience (WASH).

Tell us about your conservation journey?
I started out with the protection and care of wild animals and in my course of work, I realized that the root causes to some of the issues we were addressing, such as destruction of wildlife habitat and challenges with rising human population laid on a different side. This made me realize that there were solutions that needed to be sought from another angle. I have since turned my attention to being more proficient in integrated social development and conservation.
Tell us about your work with the ABCG Global Health Linkages to Conservation: Freshwater Conservation and Water, Sanitation and Hygiene thematic area?
This area of work focuses on the integration of freshwater conservation and Water, Sanitation and Hygiene (WASH) by building the capacity of communities to conserve freshwater resources while improving human health and well-being. In 10 villages in the Albertine rift region of Hoima and Masindi Districts in Uganda, we have been working on building local community capacity to conserve freshwater resources and improving sanitation and hygiene. This region contains an important network of tropical rainforest, which faces threats due to high human population growth, such as deforestation, human-wildlife conflict due to shared water points, as well as sanitation challenges.
How has your experience been working on FW-WASH?
This was the first time that the Jane Goodall Institute in Uganda attempted to work on freshwater conservation alongside our conservation work. Interestingly, we observed that we were able to better engage with the community by addressing WASH issues that are a critical component of the community's daily needs. Integration is also not a widespread strategy being implemented by many institutions, but we hope that after disseminating the pilot results of this current project it will be a more widely taken up approach. Water is a great convergence point for conservation and social economic needs. The Jane Goodall Institute has now adopted freshwater conservation and WASH as part of its broader Africa program strategy plan.
What are some of the opportunities that this integrated approach present?
Through cross-sector collaboration we have been able to realize environmental and human gains. The approach presents the community with incentives to protect the ecosystem as they have a better appreciation of how the catchment areas contribute to meeting their water needs. The approach further offers a much broader view of conservation and development objectives and reinforces protection of critical ecosystems that works as catchment areas.
What are some of the highlights of your conservation work?
From the freshwater-WASH pilot, I have been blown away by the impact of this integrated approach on the community. Before this work, communities used to report on how children were not able to fetch water as the watering places would become extremely crowded and they would even get injured in the process due to crowding together with adults. The construction of community water harvesting points and renovation of projected spring are some of the activities that have led to improved access to clean water and now children can safely collect water. We've also observed how human-wildlife conflict has reduced as a result of this integrated approach. The passing of local bylaws and policies to ensure that all local households have proper sanitation are significant achievements.
Away from this activity while working on the protection of animals I discovered an innovative mechanism for safely anesthetizing chimpanzees in the wild. Previously, it was considered impossible to anesthetize chimpanzees in the wild, because when they were darted with anesthesia they had the tendencies of climbing trees and they would later fall and be harmed. In 2007, while still with the Jane Goodall Institute, I innovated a safe mechanism to anesthetize chimpanzees in the wild, which today has had 100% success rate leading to the option of rescuing and treating chimps that are caught in snares and man-traps.
Meet more ABCG coalition members here: 
Conservationist Michelle Wieland Talks of the Importance of Community Engagement in Protecting Biodiversity
Photo: Peter Apell at an ABCG workshop. Photo credit: Evelyn Namvua, ABCG