Note: this is the 4th part of the series, Nature Protected and Lives Impacted, on ABCG's Success Stories
Compiled by Mzingisi, Nathi Xulu and Caroline Rose, Conservation South Africa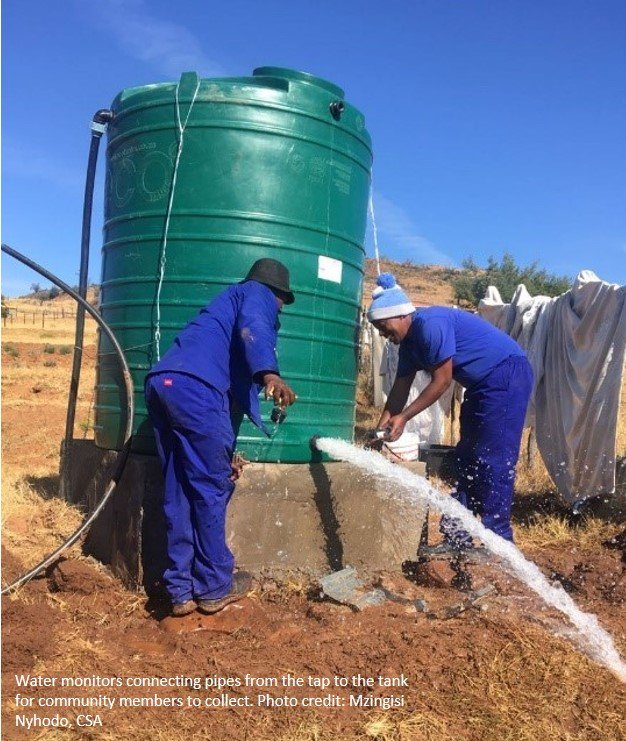 Being a headman in South Africa's Eastern Cape Province is not easy, just ask Nosolani Mantshule. He must balance the growing need for clean water for his community with the revegetation of rangelands, essential for securing water resources and conserving more than 2,000 plant and animal species. Livelihoods and traditional ways of life are under threat due to overgrazing, erosion and landscape degradation.
Most people in Nosolani's village of Msukeni, along with other near-by villages, don't have reliable access to clean water. The once lush rangelands and mountains are increasingly infested with alien invasive vegetation, mainly black and silver wattle. This wattle consumes significant amounts of water, negatively impacting communities, livestock and the surrounding indigenous rangeland vegetation. Initially, Conservation South Africa (CSA) worked with the government funded Working for Water program, to support volunteers to clear wattle from the landscape, and returning much needed water into the ecosystem. More recently, CSA added the One Health Program, part of a larger USAID-supported initiative of the Africa Biodiversity Collaborative Group. One Health links freshwater ecosystem conservation with Water, Sanitation and Hygiene (WASH) programming to ensure the supply of clean water for communities and the environment. After the intensive work of removing wattle, the mountain springs have begun to flow again.
In May 2018, the CSA One Health team, and 14 community volunteers turned their attention to rehabilitating one of these restored springs to deliver a safe, reliable water supply. Accessing the spring was a challenge, as it was located 1,600m uphill from the community. When the wattle directly above and below this spring was cleared, there was a significant increase in water flow, sufficient to fill a two-liter container in 30 seconds.
Since this spring was so far from the community, it was vulnerable to contamination by trash, silt, human and animal waste. To protect the water on its journey from the spring to Msukeni village, a solution needed to be found. Together with the community, the One Health team put in place a piping structure to bring water down the hill to an existing 2,500 liter plastic reservoir tank.
Nosolani sees how these efforts help his community. "CSA's activities have helped to reduce poverty, by improving our livelihoods, as a community, because we will now be able to grow vegetables, such as spinach, all year round. This, in turn will have the impact of improving individual health because the occurrence of diseases will decrease".
Read other blogs in this series: