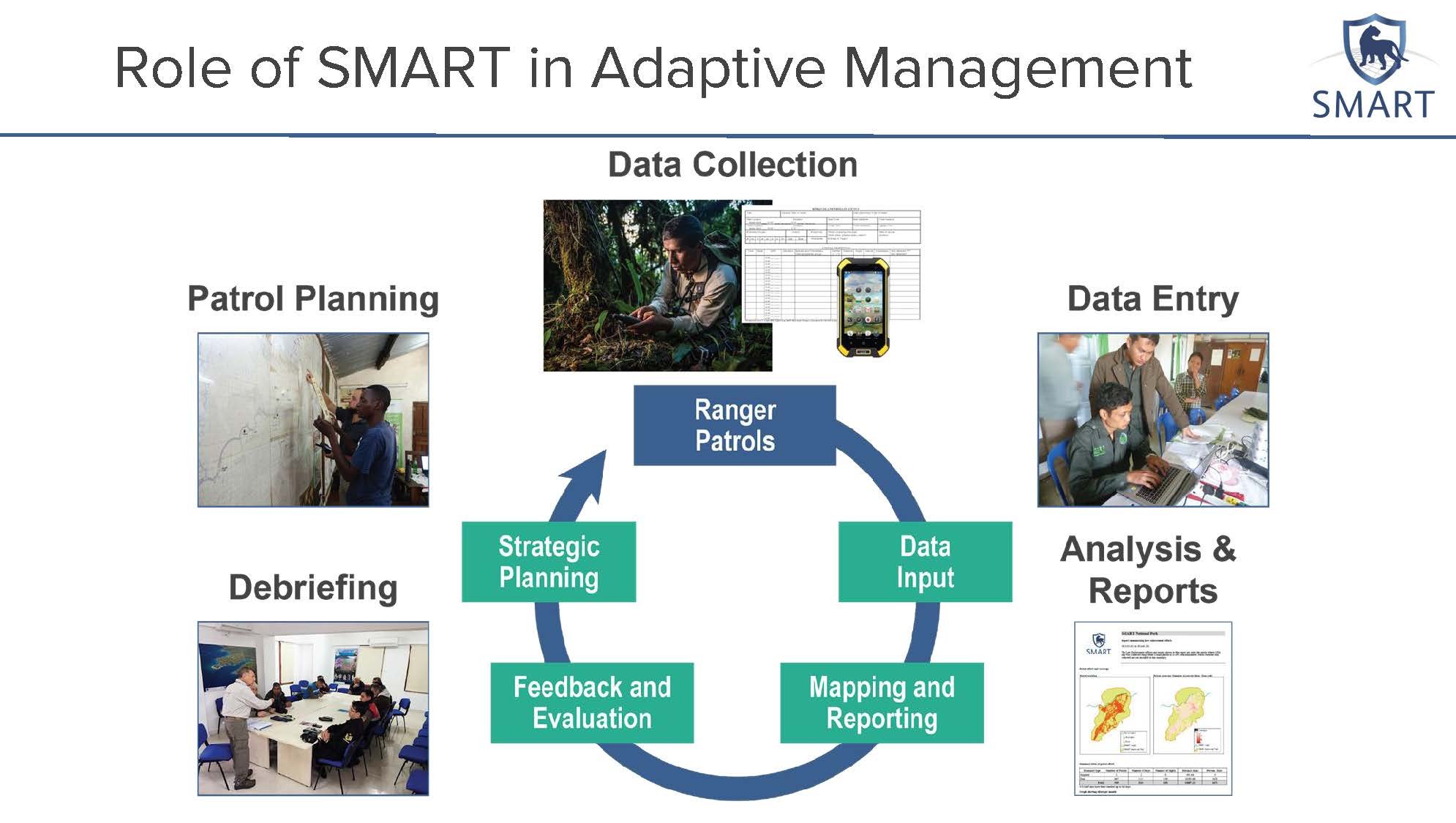 Protected areas are the cornerstone of biodiversity conservation. It is, however, alarming that only 24% of protected areas have sound management (Leverington F. et al, 2010). This is in the wake of a tremendous increase in the demand for wildlife products, as well as an increase in well-financed, organized and connected wildlife crime. There is therefore need to put the available limited resources to maximum use for best outcome.
On November 15, 2018, as a part of its Washington DC speaker series, the Africa Biodiversity Collaborative Group (ABCG) featured Drew T. Cronin, the Program Manager for the SMART Partnership, who explained the use of the Spatial Monitoring and Reporting Tool (SMART) for adaptive management of wildlife law enforcement. The SMART approach covers three areas: software, capacity building and site-based protection standards. With a global need to improve protected areas management effectiveness, this approach ensures that the available resources are best deployed in order to give best returns.
The SMART approach employs the use of the SMART tool, which plays a major role in adaptive management including; data collection by ranger patrols, data entry, analysis and report, debriefing and strategic planning. Rangers use this tool to capture data on threats in close to real time and transmit the information to the HQ. This allows the HQ to deploy rangers in response hence mitigating the threat.
According to the presentation, SMART, now the leading tool globally for wildlife law enforcement and protected area monitoring, has been effectively used to improve conservation in various protected areas including; Dja Biosphere, Cameroon, in protecting great apes, the approach has contributed to an increase in patrol efforts by 86% of coverage in 2017. In Kenya, the cyber tracker interface uses icons to represent animals and threats in a SMART configured data model. This improves patrol reporting for all community rangers as well as motivating ranger teams to meet targets. This has resulted in 4 times increase in patrol coverage with a 74% decrease in poaching. In Cambodia's community managed fishery, SMART helped identify illegal activity hotspots, which was key in reducing fishery infractions by 40% over 3 years. And, in the conservation of tigers in 100+ tiger sites globally.
SMART is an illustrative example of the wide-ranging adoption of an ABCG-supported tool. ABCG was instrumental in scaling adoption of SMART to Africa (SMART was originally developed and piloted in Asia) by developing a global network of trainers, enhancing capacity to implement this adaptive management approach, and expanding the user base for broad application.
As a result of ABCG's work: 1) SMART has become a standard system for wildlife law enforcement for World Wildlife Fund-US and Wildife Conservation Society, and is used for all of their work in the Congo Basin; 2) The Jane Goodall Institute is using the SMART system to collect data in the Congo's Tchimpounga Nature Reserve; 3) African Wildlife Foundation field staff in Kenya and Tanzania are providing training on the system, including for use by the Kenya Wildlife Service and for community game scouts in southern Kenya and in Tanzania; and 4) the Gabon and Uganda governments have been trained in the use of the system and have begun using it for law enforcement management.
ABCG's promotion of the SMART system has enabled the technology to be deployed more rapidly and more widely by broadening knowledge and acceptance for its use within ABCG membership, and by building the capacity of African governments and NGOs.
Current SMART partner members include: Frankfurt Zoological Society, Global Wildlife Conservation, North Carolina Zoo, Panthera, Peace Parks Foundation, Wildlife Conservation Society, Wildlife Protection Solutions, World Wildlife Fund, and Zoological Society of London.
Event resource 
Click here to watch the webinar recording: 
Featured Speaker
Drew Cronin is the Program Manager for the SMART Partnership. Prior to his two years with SMART, he was a Postdoctoral Research Fellow with the Bioko Biodiversity Protection Program focused on the drivers and dynamics of bush meat consumption and quantifying the impact of human activities on wildlife. He is a member of the International Union for Conservation of Nature/SSC Primate Specialist Group, Africa Section, and is also the Interim Coordinator of the Red Colobus Conservation Action Plan. Drew has a Ph.D. in Environmental Science from Drexel University and is based at Wildlife Conservation Society in New York City.