Three of the most important pillars in conservation: drawing on the best minds and institutions to work together and enhance the impact of their pooled resources; engaging the affected community in seeking enduring solutions, and; share scientifically grounded knowledge with the broader conservation and development community—define the essence of the Africa Biodiversity Collaborative Group.
To this point, ABCG has taken a critical look at the face of our collaboration: our interactive website—ABCG.org—and invested in redesigning its functionality for a more effective user interface including, content searching, interactivity and feedback, streamlined user experience and a presentable layout. ABCG.org has a trove of collectively generated knowledge on conservation matters, from the bushmeat crisis to UAV (drone) technology; freshwater conservation and public health to faith-based conservation; and industrial agriculture and food security to mining and logging. ABCG continues to generate knowledge and it is important that we continue to apply the best accessible approaches to manage it for our visitors.
Seven highly regarded NGO members produce policy reviews, conduct workshop trainings, technology development and transfer, and improve upon conservation practices through collaborative working teams, and open this material to targeted, public consumption and feedback. Chances are you will find the knowledge resource that you need for a program design, or appropriate practices in monitoring and evaluation for a project.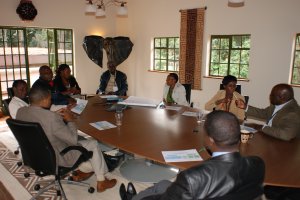 The seven members that make up the coalition, the African Wildlife Foundation (AWF), Conservation International (CI), the Jane Goodall Institute (JGI), The Nature Conservancy (TNC), Wildlife Conservation Society (WCS), World Resources Institute (WRI) and World Wildlife Fund (WWF), have collectively implemented seven million dollars' worth of conservation activities in the past five years. This amount is not impressive in itself, rather, it is the value added through collaboration at the project planning and design phase that enhances the ultimate output and outcomes of activities. ABCG's joint effort has enabled broader conservation impact of individual projects across multiple landscapes, rather than a piecemeal approach; It has helped the pitfall of "reinventing the wheel" through outreach and engagement with communities of practice in the field including local NGOs, civil society, private enterprise and government agencies at many levels. Crucially, joining forces plays to the strengths of individuals and institutions, fostering peer learning and tackling multiple conservation challenges that no one organization can accomplish effectively on its own.
ABCG is built around an idea that works much like an organism itself—a body needs specialized organs working in concert, in a system. Similarly, people of all backgrounds and persuasions live together in complex arrangements that require structures and rules to enable a functioning society. However, much of the complex challenges facing biodiversity conservation stem from a dissonance between human society's relations with nature. Due to these complex, interconnected and multifaceted interactions of conservation and development challenges, it becomes imperative to tackle these challenges in an integrated, multidisciplinary and systematic fashion. This is the strategic advantage of ABCG—a voluntary agreement to work as a team and push ever scarce funding dollars even further together.
The ABCG consortium presents to you our new website! We hope you find ABCG.org most useful as a portal, a forum and resource for biodiversity conservation and development solutions. We encourage you to drop by, download a document, leave a comment or more and share the knowledge with all who are interested in bridging the complex challenges of smart development and biodiversity conservation.
Resources:
Find our printable brochure all about ABCG here.
Read our previous newsletter giving an overview of ABCG's current and recent thematic charges.