The Nature Conservancy (TNC) and the World Resources Institute (WRI), recipients of the Africa Biodiversity Collaborative Group's (ABCG) Emerging Issues small grant recently concluded their project titled, on July 31, 2017.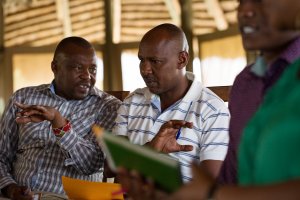 Through its Emerging Issues small grants, ABCG identifies and develops strategies to respond to new and growing threats that are likely to shape conservation priorities in the coming years, and influence the effectiveness of biodiversity conservation efforts in Africa.
The project sought to develop and implement a new program for bolstering the management and leadership capacity of key individuals working in African natural resource management and conservation. They aimed to focus their efforts on mid-career leaders of organizations in eastern and southern Africa.
In Tanzania, TNC, in collaboration with Maliasili Initiatives hosted workshops to augment the leadership skills of African conservation leaders. TNC also commissioned a retrospective analysis of the efficacy of WRI's previous
investments in the long-term development of African civil society organizations (CSO) in East Africa. Meanwhile, WRI hosted Edward Lekaita, Legal Advisor and Head of Advocacy – Ujamaa Community Resource Team for a month-long fellowship aimed at strengthening his leadership capacity at its Washington, DC headquarters.
The workshops helped create an African Leadership Network which provides a versatile framework for enriching leadership and collaboration in African conservation organizations. The retrospective analysis aided in the development of best practices on how donors and non-governmental organizations (NGO) should engage with and support African civil society organizations.
The creation of a leadership network allows for a productive exchange of ideas and experiences that increase the potential for future collective action in relation to conservation challenges. Best practices from the retrospective analysis will help to educate NGOs and donors on how to use their investments to make African CSOs more self-sufficient and able to impact other organizations.
Contact:
For more information please contact Kimberly Holbrook, TNC at: kholbrook@tnc.org
Photos:
Photo 1 – Far left, Dickson Ole Kaelo, CEO of Kenya Wildlife Conservancies Association, and John Kamanga, Executive Director of SORALO, at the African Conservation Leadership Network seminar in Tanzania. Photo credit: Rachel Ambrose
Photo 2 – On the right, Sam Shaba, Program Manager for Honeyguide, and John Griffin, facilitator from Reos Partners, going through an exercise during the two-day African Leadership Network seminar in Tanzania. Photo credit: Rachel Ambrose.